With 5 lottery companies and three national lottery games, it's little wonder that Canada has produced some huge lottery winners throughout the years. But even so, the sheer number of multi-millionaire winners beggars belief. And we're not just talking about a few million dollars here, we're talking tens of millions!
But before we get to talking about the biggest lottery wins that have changed the lives of some very lucky Canadians, let's have a quick look at Canadian lotteries in general.
How Canadian Lotteries Work
Well, first thing you need to know is that there are 5 lottery companies that operate in specific areas in Canada.
The companies are:
While each corporation sets their own rules and regulations in their respective areas, all five together form the Interprovincial Lottery Corporation that runs the national lottery games.
So what about those nationwide lottery games?
Well, as mentioned earlier, there are three games. These are the Lotto Max, Lotto 6/49, and the Daily Grand.
The Daily Grand is a pretty incredible one as the winner gets $1,000 a day for the rest of their lives! Tickets cost $3 a pop and you need to match 5 numbers from 1-49 along with a Grand number from 1-7.
Lotto 6/49 is exactly what it says it is. Pick six numbers from 1-49. Tickets cost $3 and you get two sets of numbers — the first one is for the main draw and the second set is for a bonus draw for $1 million.
Then there's the Lotto Max. Tickets for this draw cost $5 and for that you get 3 sets of 7 numbers.
The local lotteries have a variety of different games, but the three national ones listed above are the most popular overall.
So now you know how the lotteries work, let's take a look at those winners.
Brett McCoy and Robin Walker from Yellowhead County — $60 million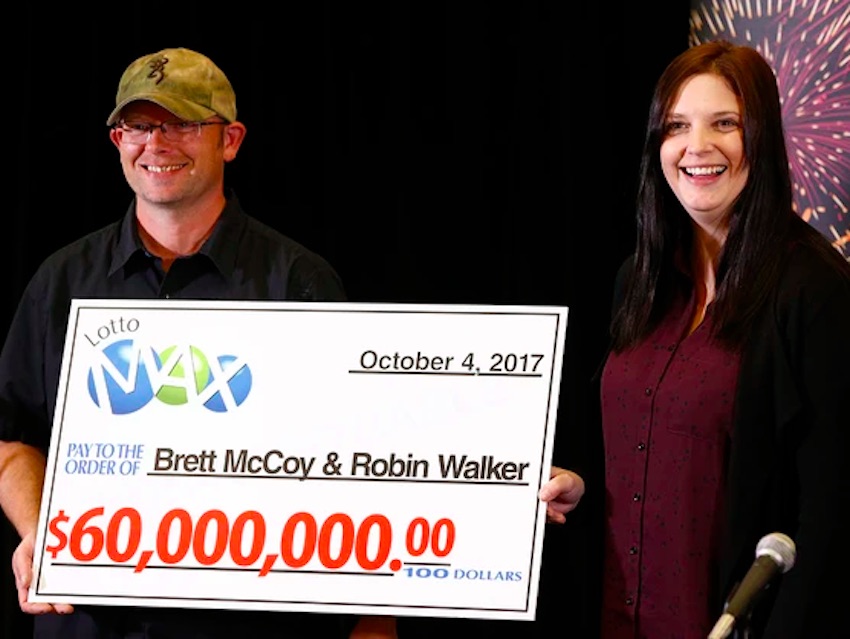 The year is 2017 and the month is October. Brett McCoy and his partner Robin Walker have just bought a Lotto Max 'Quick Pick' ticket for $11. But little did the hard-working Alberta couple know that they were about to become the richest people in their neighbourhood by a long stretch.
The couple won a mind-blowing $60 million that would see them never have to work again. However, despite the furor surrounding the win, the couple have remained surprisingly grounded. They decided that they would pay it forward and make sure that it wasn't just themselves and their children that benefited from the win. Although they did splash out on a new truck.
Seems like the money certainly didn't go to their heads.
Bon Truong from Edmonton — $60 million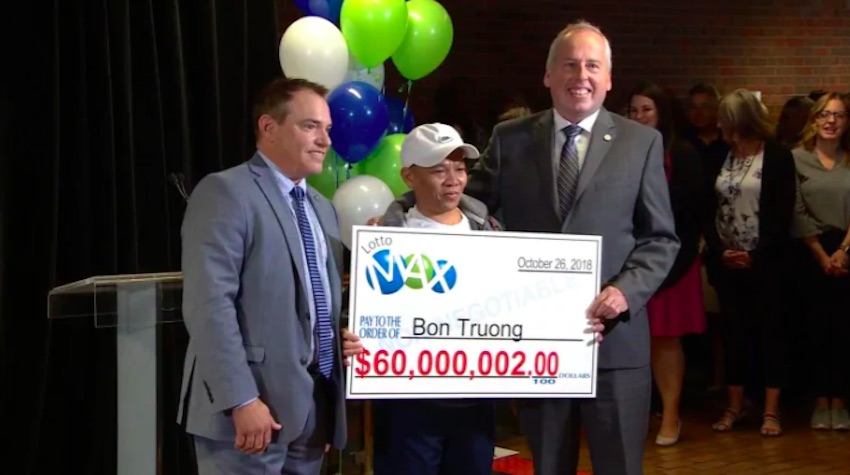 Imagine playing the same numbers every week for 30 years. Yes, that's three whole decades of not winning but sticking with your original choice of numbers. Seems pretty incredible, right? Well, that's how dedicated Bon Truong from Edmonton in Alberta was with his lottery play.
And in 2018, that dedication finally paid off to the tune of $60 million.
Truong had first chosen his numbers 2, 3, 4, 8, 9, 20, and 30 based on birth dates of his family and although it may have looked like a combination that's unlikely to come up, he stuck with it. He was said to have been so shocked by the win that he returned to the store to ask the clerk to confirm the winning numbers once again.
Incredibly, Truong waited a full 10 months before claiming his prize in August of 2019 and during that time he had continued to work as a landscaper. He signed his ticket, put it in a safe, and told no one about how much he had won. After claiming his prize he said he would pay off his mortgage and probably continue working. He also said he wanted his kids to work too.
Now that's a man with his feet on the ground.
Zhe Wang from Mississauga — $64 million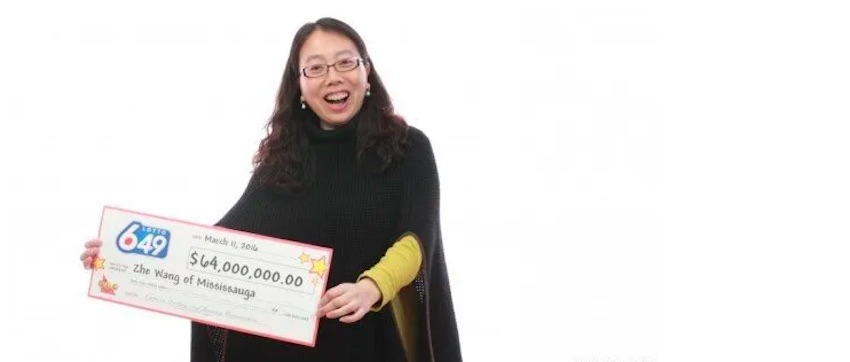 This is one Candian Lottery winner who decided to keep a very low profile. In fact, so low that we're not even sure how she spent her money or what she has done since claiming the prize.
We do know that she is Zhe Wang from Mississauga and that she bought her winning ticket in a Petro Canada in Mississauga. Wang bought her ticket for the October 16th draw in 2015 but didn't claim her jackpot of $64 million until March of 2016. That's 5 months of sitting with a ticket and thinking about what she was going to do with it.
At the time, Wang's win was the largest jackpot win by a single ticket holder in the history of Canadian Lotteries. However, that record would only last for a few years.
Tai Trinh from Calgary — $65 million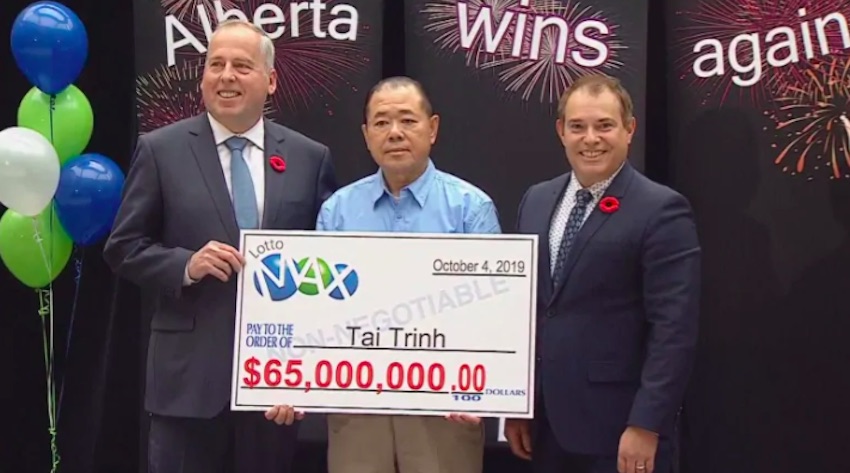 Tai Trinh who describes himself as one of the Vietnamese boat people that arrived in Canada in 1980 became a record jackpot winner in October of 2019 thanks to a weekly coffee ritual.
The 63-year-old Calgary man would visit the same Shell store each week and buy a coffee and a 'Quick Pick' ticket. When he arrived home and saw the winning numbers he realised that his life had just changed, but he decided not to tell anyone just yet.
Although he didn't show quite the restraint that Bon Truong or Zhe Wang had shown, he did wait for a few weeks before he claimed his prize. And during that time he told no one of his mega win.
Amazingly, Trinh said that he had no plans for the money and would simply put it in the bank. That said, he's probably treated himself to a holiday or maybe a new car by now, but he's flown under the radar since so we'll never really know.
Gregory Mathieu from Quebec — $70 million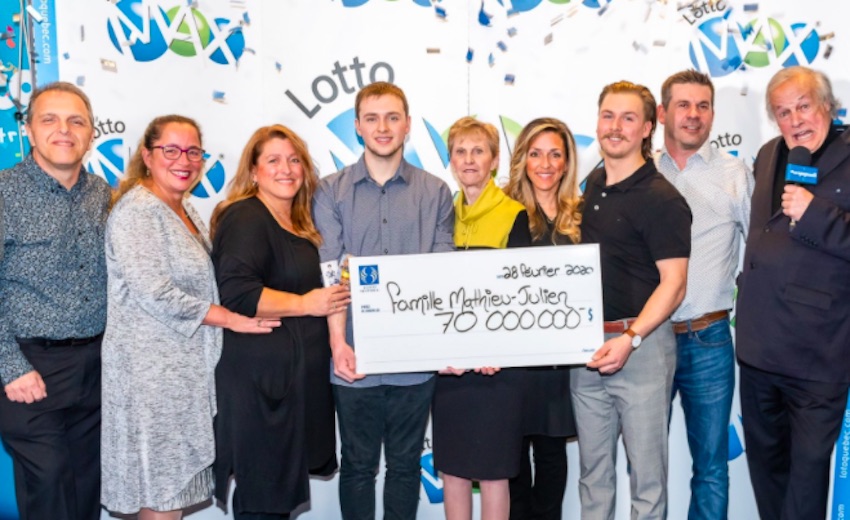 And so we come to the current record holder of the largest Canadian lottery win by a single ticket holder, and it's a pretty nice story.
The winner was Gregory Mathieu, a grocery store employee living in the Quebec suburb of Lévis. Mathieu was working hard but finding it difficult to make ends meet. He had a car that regularly broke down on his way to work and still lived at home with his family.
But that all changed when Mathieu arrived at work on the Wednesday after the lottery draw. According to his coworkers, he arrived in some distress as he had just heard the winning numbers. He asked a colleague to verify the ticket and went into a complete state of shock.
Once he calmed down he called his family to come pick him up and headed to his grandparents home to celebrate the win. Mathieu said he planned to buy a new car but that any other plans would be made together with his family.
Honorable mentions
Something tells me that the folks below aren't all that bothered about making our list of biggest lottery wins in Canada but we'll give them a mention anyway.
Craig Henshaw from Ontario — $21 million
Craig had a rough time with people begging him for money so he quit his job as a teacher and even spent some time hiding out in hotels! He's got himself back on track now though and has used his money to set up some scholarships at local schools.
Luciano Polera from Ontario — $23.6 million
This winner in Ontario had played the lottery every Friday for 40 years before finally landing the big one. At first he thought he had forgotten one of his numbers and missed out on the jackpot, but luckily for him, he was mistaken.
Gord and Betty Collins from Placentia — $30 million
Imagine walking around with a winning lottery ticket in your pocket for a week! Now imagine how it would feel to check and realise that not only was it a winner but it was for a $30 million jackpot. That's what happened to semi-retired pharmacist Gord Collins who we imagine retired from his job on the spot.
Michelle De Roma from British Columbia — $39.5 million
When most people are counting the cost of the Christmas spend, Michelle De Roma was counting the zeros in her bank account. She bought her ticket right after the festive season and discovered she was a multi-millionaire on her husband's birthday.
Author