In a city full of casinos and resorts all trying to outdo each other, it's little wonder that Las Vegas is home to some of the most opulent, lavish, and downright expensive hotel suites in the world. The kind of accommodations that make $7,000-a-night Presidential Suites look like something you'd pick up on a mid-week deal online.
Yes, we're talking high-roller suites that scream 'I'm a billionaire' and that very few of us mere mortals will ever see the inside of.
So if you're ready to let your imagination run wild and put yourself in the other half's shoes, let's take a look at the kind of places A-listers and oil barons rest their heads in Sin City.
Who knows, if you're lucky enough to win a progressive jackpot slot, this list might come in very handy.
Hardwood Suite, Palms Casino Resort
Starting at $25,000 per night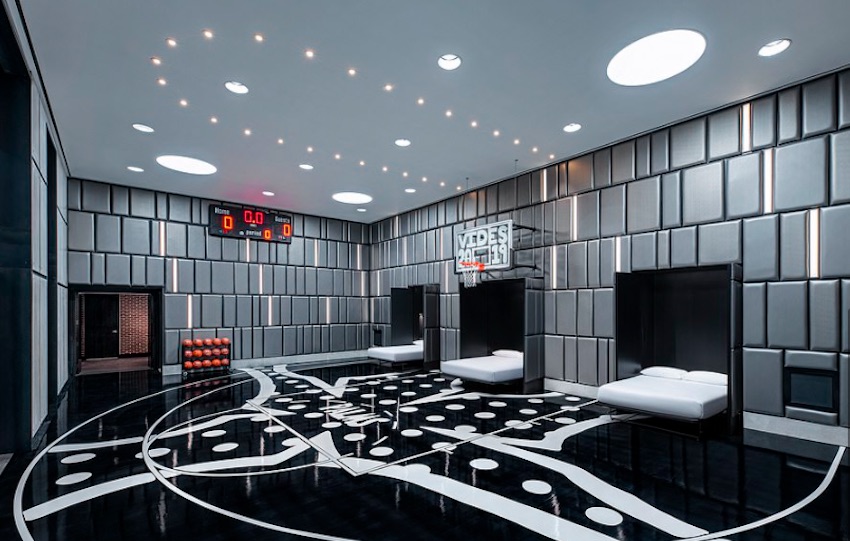 There are no prizes for guessing what's so impressive about this suite at the Palms Casino Resort. It's the suite that basketball players and uber-rich NBA fans book months in advance of a trip to Vegas and we can understand why.
The Hardwood Suite is a two-floor suite that covers 10,000 square feet. There are two master bedrooms tricked out with all the extras you'd expect for $25k per night and that includes 24-hour butler service.
So about that court? Well, it's got its own locker room, showers, and even a proper scoreboard. But perhaps best of all are the three huge fold-out beds that allow you or your guests to sleep court-side.
If you're bored with shooting hoops then you can shoot some pool on the billiards table or watch a movie (or a game) on one of the plasma TVs dotted throughout the suite.
Believe it or not, this suite isn't even the best suite at the Palms Casino Resort, but more on that later.
Marcus Aurelius Villa, Caesars Palace
Starting at $35,000 per night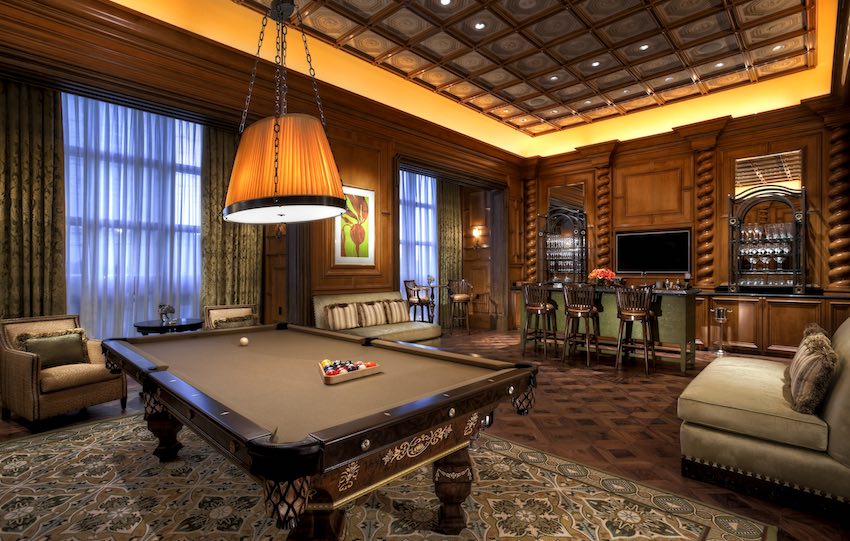 Once Once known as the Spanish Villa, the Marcus Aurelius Villa is the jewel of Caesars' crown.
It's a magnificent 9,500-square-foot villa that features a private elevator, an exotic fish tank and a grand piano of all things. You'll have three bedrooms to choose from, but we'd go with the master bedroom that has its own 8' by 8' custom made bed. Pure luxury.
There's also a terrace with a fire pit, seating and dining area, and a whirlpool spa. If you're feeling a bit peaky after a day on the strip, there are massage chairs to iron out those kinks as you sit in front of the double-sided fireplace. There's even a billiard room with a bar for a drink and a few games of pool while there's also a media room that has cinema-style seating and a huge flat screen TV.
As with all of the suites on this list, 24-hour butler service is available at the push of a button. What else would you expect for $35k per night?
The Nobu Villa, Nobu Hotel
Starting at $35,000 per night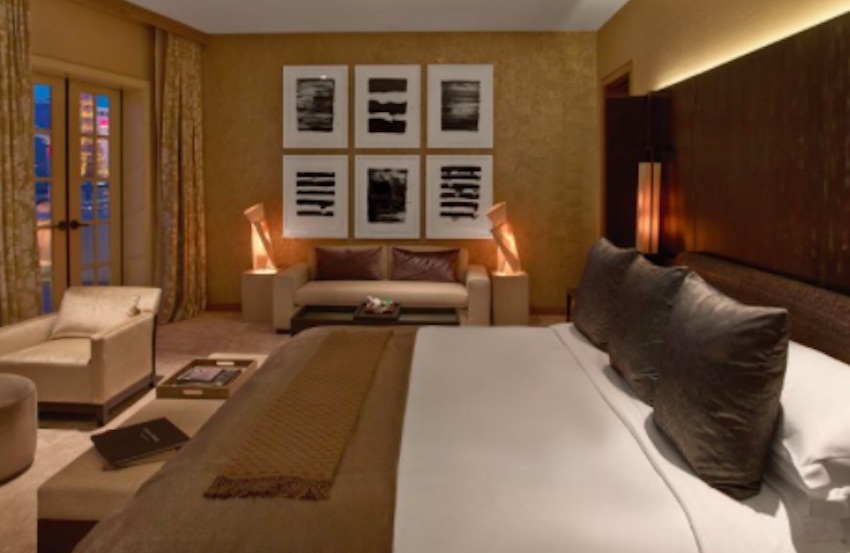 At $35,000 per night, it's inconceivable that this isn't even the most expensive site on our list, but it certainly is one of the most luxurious.
The Nobu Villa sounds like a place you'd stay in Fiji or perhaps Japan where it takes its name from, but it's right on the most famous neon strip in the world.
The suite is an impressive 10,500 square feet that comprises three bedrooms including a master suite that has its very own deck area with a Japanese maple tree and an onsen for a nice pre-bedtime soak. There's also a sauna and massage room (yes, there's a masseuse/masseur) and a huge terrace with its own bar. There's even a sushi bar and an outdoor kitchen with a Zen garden close by.
Add to that 24-hour butler service and you can see why A-listers like Jennifer Lopez and Justin Bieber call the Nobu Villa home when in Las Vegas.
Empathy Suite, Palms Casino Resort
Starting at an eye-watering $100,000 per night!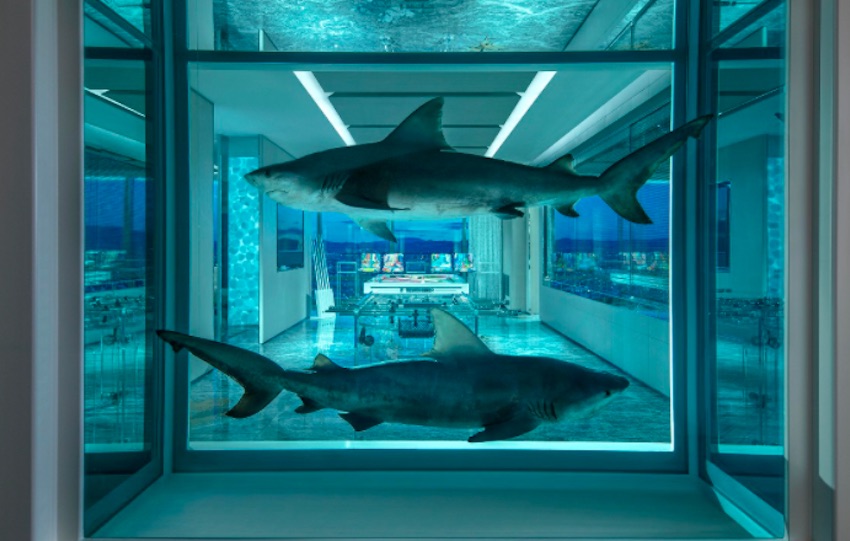 Yes, you read that right — $100,000. That's what it will set you back to spend just one night in the Empathy Suite which also happens to be the most expensive hotel suite in the USA and potentially the world.
Designed by Damien Hirst, the Empathy Suite is a 9,000-square-foot, two floor sky villa. It sits atop the newly renovated Palms Casino Resort and features all of those standard amenities that the hyper-rich come to expect.
An infinity-style jacuzzi overlooking the strip — check!
24-hour butler service — check!
Actual pieces of original modern art — double check!
13seat curved bar filled with medical waste — check!
Wait, what?
Designer Damien Hirst is actually a world famous artist who is well known for his controversial artwork which explains the bar.
And for what we can only imagine was a truckload of gold bullion, Hirst also installed his famous 'Winner/Loser' piece in the suite. So if you fancy having two bull sharks suspended in formaldehyde slap bang in the middle of your suite, then you're in luck.
The suite is supposedly reserved exclusively for high-roller poker players and there's a minimum stay of two-nights. But book it and you'll also receive $10,000 in resort credit.
Not bad, not bad at all.
Boulevard Penthouse Suites, The Cosmopolitan of Las Vegas
We don't know!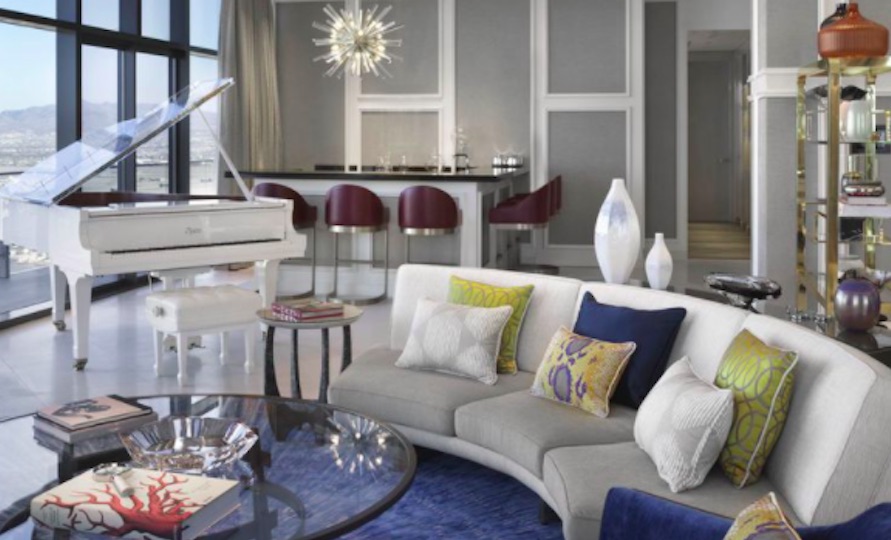 If you're a high-roller within a certain age group, then you probably know a little about The Cosmopolitan. It's the relative new kid on the block with an edginess to its decor and atmosphere that appeals to the millennial generation.
But when it comes to the Boulevard Penthouse Suites, there's a distinct shift in focus. In fact, the design team likely decided to make the suites the polar opposite of everything you'll find elsewhere in the hotel. Where the lower guest rooms are edgy and hip, the suites are decadent and luxurious in a way that we can only describe as classic.
The entire hotel was remodelled in 2018 and the design team took the opportunity to take the idea of penthouse luxury up a notch. Now, there are two-bedroom suites available at quite affordable rates, but it's the three-bedroom suite with a terrace that we're interested in.
It's lavish in the extreme with classic marble and ivory tones throughout. Yes, it also has all the extras such as a bar, butler service, jacuzzi, and an incredibly unique shower cubicle.
You can only book through the hotel's celebration team and rumour has it that it's reserved only for the highest of the high rollers. Drop a cool million in the casino and the suite is yours for the duration of your stay. They'll even allow you the use of the hotel's private jet during your stay.
Imagine that, a hotel suite that costs a million dollars to stay in and the use of a private jet!
Now, that truly is the stuff that dreams are made of.
And there you have it — the most luxurious and ludicrously expensive Las Vegas suites that we can maybe one day afford. Hey, we can all dream, right?
Now, what's the jackpot on Mega Moolah these days?
Author