Right now in Canada we are on the cusp of an exciting time for casino fans – the regulated market is opening up and we are about to see many new gambling operators entering the fray with game catalogues spanning 1,000s of titles and formats. You will find that the online casino experience is very different to that found in real life casinos. Technology and consumer appetite for more choice has led to a vast number of variations on traditional games like online slots, blackjack and roulette, as well as never seen before games in the live arena.
So, if you get excited by the idea of innovative new ways to wager and win, you are in the right place! And to help you understand what we are talking about, here we have picked out 10 of the best unique real money casino game formats to try at Canadian gambling sites.
MEGAWAYS™ SLOTS
The brainchild of online slots studio, Big Time Gaming, Megaways™ is an expanding reels slots engine that has revolutionised the industry in the last 10 years. At the heart of the game is a 'random reel modifier' technology that changes the number of rows on each reel on every spin. In this way, the number of active paylines in the game changes with each spin too.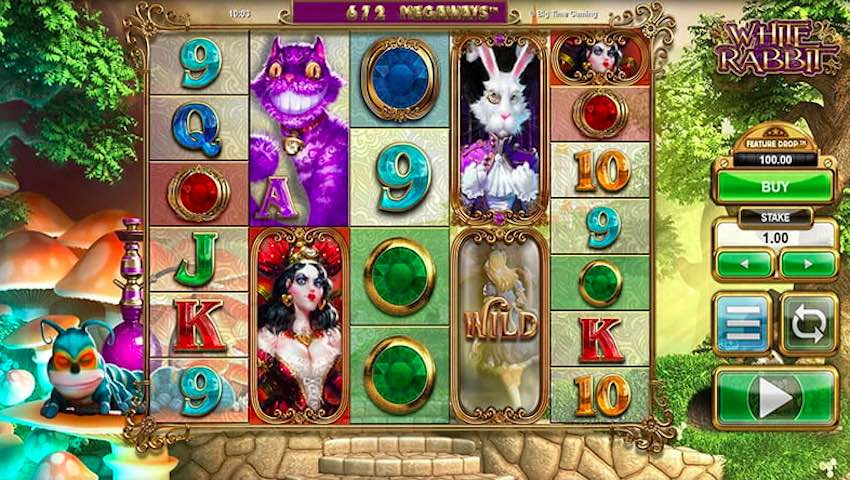 Typically, a Megaways™ game will have between two and seven rows on each reel and wins are formed when identical symbols land on adjacent reels regardless of their position on each reel. For a six-reel slot with up to seven rows in play that means as many as 117,649 paylines active on any given spin (7x7x7x7x7x7)!!
The expanding reels engine is normally combined with a high volatility maths model and features like free spins, progressive multipliers and mystery symbols. In classics like Bonanza Megaways™ and White Rabbit Megaways™ the results are a unique blend of high-risk thrills and spills with huge payout potential.
Big Time Gaming have now licensed their Megaways™ engine to competitors like Blueprint Gaming, WMS, Red Tiger and Quickspin so there are new titles on release every month. Some of the best include Gonzo's Quest Megaways™ and Big Bad Wolf Megaways™.
DREAM CATCHER LIVE
The live casino arena is where some of the most exciting developments in online casino are happening right now. Live games are streamed from a studio or a real casino allowing the player to watch real events happening on screen whilst they interact with the dealers and other players to make it a social experience as close to the real thing as you can get!
Some of the best innovations in live dealer involve totally new games built by Swedish developer, Evolution Gaming.
Their gameshow series has a Wheel of Fortune vibe to it and one of the best formats is Dream Catcher. The principle behind the game is simple – players bet on the spin of the wheel and the outcome is decided by which segment the pointer lands in. Each segment is numbers and coloured, with 1s being the most common numbers to appear and therefore having the lowest odds.
Big prizes can be one in Dream Catcher when the wheel lands on a multiplier segment. Then a re-spin takes place with the multiplier applied to the outcome. The maximum win at maximum stake is $500,000!
Dream Catcher is available at most online casinos in Canada.
LIGHTNING ROULETTE
Another live dealer format developed by Evolution Gaming is Lightning Roulette. This is another great example of how a traditional casino game has been enhanced by features that could only really be built in the online environment.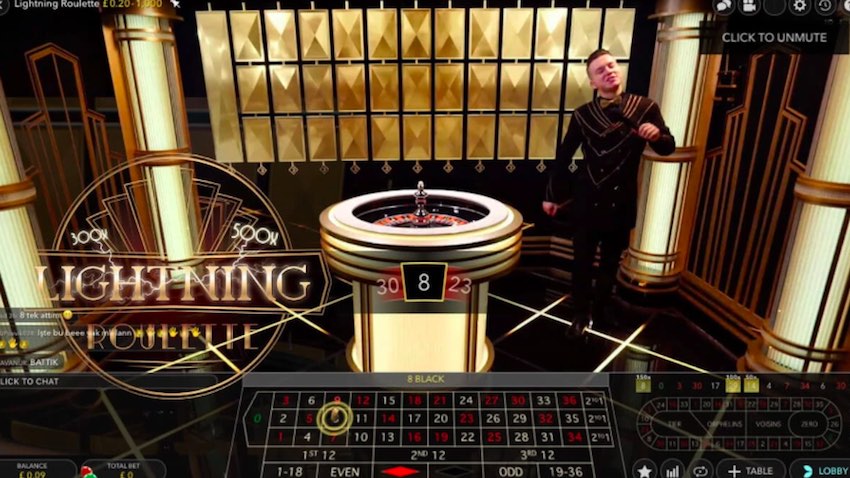 In Lightning Roulette a traditional European game wheel is augmented by a series of Lightning flashes that trigger at random during the game. When the lightening hits a particular number, that number becomes a lucky one. If the ball lands on a lucky number the payout is multiplied by up to 500x.
Lightning Roulette has the same odds as standard Roulette except for the straight up bets that are paid out at 29 to1 rather than 35 to 1. That is to compensate for the additional payouts made for lucky numbers. The RTP is 97.3% and you can play at most casinos listed on our site.
INFINITY REELS SLOT
Next to Megaways™, Infinity Reels is one of the brightest innovations in online slots in the last 10 years. It has a similar feel to the expanding reels format created by Big Time Gaming, but the mechanic is slightly different. Infinity Reels was also produced by an Australian developer – this time ReelPlay who unleashed its new invention for the first time in 2020 on the El Dorado Infinity Reels™ game.
This time, rather than expanding the reels and paylines based on random events, ReelPlay made the change dependent on a winning spin or streak. Now, for every winning spin the number of reels increases by 1. Normally the reelset starts out as 3 or 4 reels and 3 rows and one reel is added to the right after each winning spin.
Additional features normally include a progressive multiplier that increases by 1x for every consecutive win. All winning symbols are usually held in place for the next spin too. Also, if you score 12 consecutive wins in a row then you will hit at 888x payout.
Infinity Reels slots are available at any casino where ReelPlay games are listed. Some of the best include Giza Infinity Reels and Hyper Nova Infinity Reels.
ULTIMATE TEXAS HOLD 'EM
Evolution Gaming have also created Ultimate Texas Hold Em in their live suite. This is an alternative to the multi-player version of the famous poker game. Now you play against the house rather than your peers. It is perhaps a little simple to understand and a good entry point for those wishing to learn poker and get to grips with the odds for the first time.
The gameplay is simple: you are dealt two cards and must combine these with five community cards to make the best hand possible to beat the dealer. The dealer qualifies if they have a pair or better hand.
Uniquely, Ultimate Texas Hold Em is played with one deck that is shuffled each time and an unlimited number of players can be involved in the game. The highest payout achievable is 500x and the RTP varies from 97.82% to 99.47% from the initial bet to the total bet on the last card turn.
Ultimate Texas Hold Em is available at all casinos with Evolution Gaming live tables which is most of the sites listed on The Casino Heat.
REAL MONEY SLINGO
You may have heard of Slingo as a play for fun social media phenomenon from the 1990s and 2000s. It is a hybrid of bingo and slots in which players must complete lines or 'slingos' on a bingo card from numbers revealed by the spin or a one row slot reel at the bottom of the screen.
Slingo was hugely popular on MSN and other social media platforms until a London-based developer bought the format and brand in the 2010s and turned it into a real money game. If you enjoy either slots of bingo then you might love Slingo. It is widely available at casinos in the UK, Europe and the US and will be in Canada too.
The success of the real money version has led the Slingo Originals development team to create many co-branded versions of the game mixing classic slot brands with the Slingo game engine. These include Slingo Rainbow Riches, Slingo Starburst and Monopoly Slingo. Typically these games have an RTP of around 95% and top prizes of around 1,000x.
XWAYS SLOTS
Another slot game developer who is currently on the rise and whose games you should check out at Canadian casinos is No Limit City. They are from Sweden and like ReelPlay and Big Time Gaming focus on creating new and innovative game features to enhance the experience of traditional slots. Their xWays slots are a good example of this.
The xWays feature is simple – when xWays symbols land they split in two, therefore creating more rows on a reel and expanding the number of paylines in play and your odds of winning. You can find this mechanic on slots like Infectious 5 xWays, xWays Hoarder and San Quentin xWays.
No Limit City slot games are worth searching out because they have fantastic themes, often adult in nature, have particularly high variance and come with huge top payouts. The best examples of these are San Quentin xWays with a 150,000x stake top win and Tombstone RIP with a 300,000x top win!
Check our casino review pages to see if NLC games are available.
LIVE DEALER SLOTS
Let's finish on one of the weirdest and most wonderful online casino creations that a basic instinct of curiosity will insist you try once we explain it to you.
Mermaid' Fortune by Evolution Gaming is said to be the first (and perhaps only) live dealer slot game in existence. You might be thinking – what is the point of a live dealer slot game? I don't need a dealer to spin the reel for me like the deal the cards? Well, that might all chance when you understand that this live dealer is a mermaid. Or at least a beautiful woman dressed as a mermaid.
In this off-the-wall slot the mermaid sits in front of a Carribbean-themed backdrop and spins  a wheel for you, as well as talking to players and taking bets. In truth it is more like a Wheel of Fortune game though it has been classed as a slot by creators, Evolution Gaming. It's very much a novelty experience but one that you can enjoy for a few spins before going back to the reel thing … or hang around if you choose!
Mermaid's Fortune is a one and only and can be found at just a few casinos with Evolution Gaming software. You can find a list here.
More Online Casino Games Worth Your Time
Those are 8 of the best unique and innovative casino games you'll find at Canada's new online casinos. And to finish off, here are a few more to look out for:
Crazy Time Live by Evolution Gaming
Lightning Dice by Evolution Gaming
Live Craps by Evolution Gaming
Mega Moolah Progressive Jackpot Slot by Microgaming
Mega Fortune Progressive Jackpot by NetEnt
USEFUL RESOURCES
Big Time Gaming Site – Creators of Megaways™
ReelTime Gaming Site – Creators of Infinity Reels
Evolution Gaming Site – Live Dealer Specialists
Slingo Originals Site – Creators of Slingo Games
Author