Play Reactoonz 2 At These Casinos
ABOUT THIS SLOT
Alongside Book of Dead, Reactoonz is surely one of Play n Go's all time great slots, and of the best examples of a grid slot game you'll find at any casino. Instead of standard reels, the game takes place on a 7×7 grid, with payouts triggered by forming 'clusters' of identical symbols that land in vertically or horizontally adjacent positions. After any winning 'drop' (spin) the Cascading Wins mechanic kicks in and winning symbols disappear to be replaced by new ones, potentially creating more wins and triggering the cycle again.
There are plenty of similarities between the original Reactoonz and this sequel – namely the gameplay and the all the cute characters. Reactoonz 2 is a step forward though – it has better graphics and a crisper soundtrack adding extra atmosphere and fun to proceedings.
Meanwhile, Gargantoon and his eight aliens will be familiar to most of us, as will the the Fluctometer and the Quantumeter that charge up to release extra features from the base game.
Read on to find out more.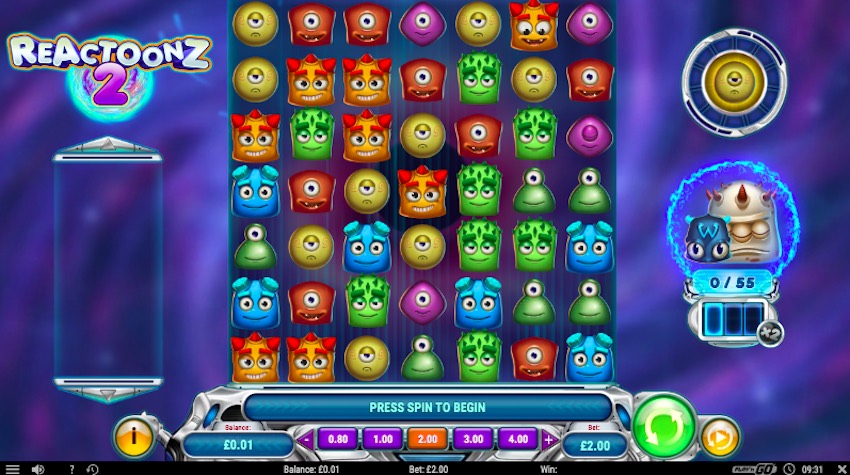 RTP, VARIANCE AND PAYOUTS
Famous for its high variance, the Reactoonz game series is one that shouldn't be taken lightly. It can bust out some huge prizes, but it can also frustrate with long periods of dry play with no payouts at all. So come with a big enough bankroll to ride out the tough times. The RTP is a favourable 96.2% and the top payout is 5,083x per spin.
SYMBOLS AND PAYTABLE
Four big Reactoonz and four little Reactoonz Aliens act as regular icons, which is the same crew as in the original game. The Pink, the Green, Orange, and the Blue Alien have two eyes and will deliver from 60x to 500x bet for the biggest possible cluster. The four little Aliens will get you from 3x to 10x the bet.
There are four types of Wilds that will appear on the reels, substituting for regular symbols to create win clusters as well as charging the Fluctometer, and the Quantometer. So prepare to meet the Energoon Wild, Gargantoon Wild, Electric Wild, and Uncharged Wild.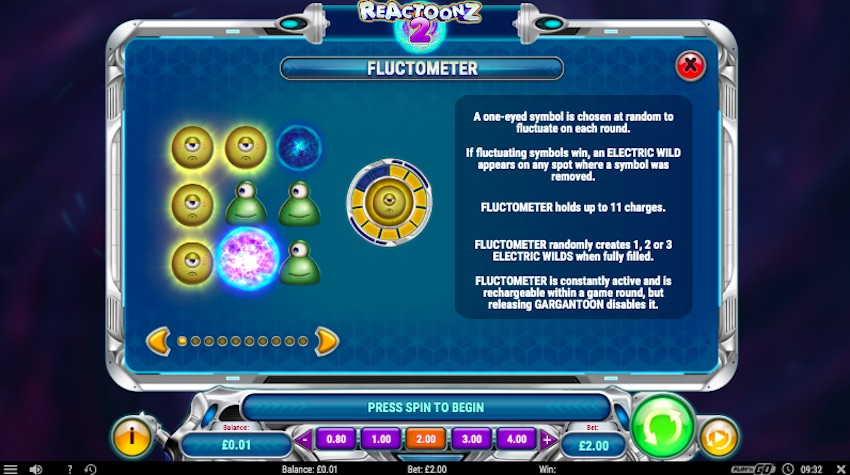 GAMEPLAY AND FEATURES
Reactoonz 2 is BIG on features, just like the original. It's what makes the game so popular – there are always exciting things happening on the grid, with clusters forming and breaking up, and wilds completing new clusters and filling meters to trigger extra features along the way.
CASCADING WINS
Don't forget, this is a Cascading Reels or Wins slot which means you can score multiple wins from one spin or drop as winning icons will be removed and new ones dropped in to replace them. This can be pretty exciting as your win total racks up and the process keeps repeating over and over, combining with wilds and electric wilds!
UNCHARGED WILDS
Uncharged Wilds appear on the grid, but they will not substitute for other icons until they are turned into Electric Wilds. This happens when a winning cluster appears directly adjacent to the Uncharged Wild. More on Electric Wilds in a moment.
FLUCTOMETER FEATURE
Players will notice the Fluctometer in the top right side of the screen. One of the one-eyed Aliens is be selected as the fluctuating icon for each spin and every time a fluctuating symbol is removed from the grid, it charges the Fluctometer. Additionally, when they form a winning combo, they create an Electric Wild, which remains on the reels.
Electric Wilds, when creating a winning combo, also remove fluctuating icons from the reels, charging the Fluctometer. If the meter is full, 1-3 Electric Wilds are be added on the reels.
QUANTUMETER FEATURE
Electric Wilds are what you need to trigger the Quantumeter feature. Every time an Electric Wild is a part of the winning cluster, or every time it zaps an Alien icon from the grid, it will charge the Quantumeter. There are four levels on the Quantumeter, and all four of them require a different number of charges.
Levels 1, 2, and 3 need 55, 85, and 110 charges, while Level 4, also called Overcharge, needs 135 charges to be activated.
On levels 1 and 2, you get Energoon Wilds. Level 1 offers 4 Energoon Wilds of regular size placed on random positions on the reels.
Level 2 delivers a 2×2 Mega Energoon Wild on the grid.
Levels 3 and 4 are reserved for Gargantoon. There is a possibility to overcharge the meter and benefit from 4 Gargantoons of regular size, 2 2×2 Mega Gargantoons, a Giant 3×3 Gargantoon, and a 2x multiplier that is applied on all wins with Gargantoon Wilds.
WILD PAIR EXPLOSION FEATURE
The feature is triggered when there are at least 2 Electric Wilds on the reels, and no possibilities for a winning cluster. If the Wilds are placed next to each other, they will destroy all regular icons on the grid. If there is no win after the first explosion, another one occurs. This keeps happening until there is a winning cluster.
If there are more Electric Wilds on the reels that are not adjacent, 2 of them will be randomly chosen, a line will be drawn between them and all icons on that line will be destroyed.
OUR VERDICT
Reactoonz 2 is an action-packed video slot that offers plenty of excitement. It may seem a little complicated at first, but things start to fall into place once you get playing. If you've spent time with the original then you'll be at home here right from the start. Its genius is in creating massive win sequences that are thrilling to watch as explosions, Gargatoon Wilds and cascades fill the grid. And the beauty of it is, because its all about cascading wins that trigger within the game, you can just sit back and watch the wins rack up in front of your eyes!! Reactoonz 2 has large shoes to fill, but we definitely back it to be as popular as the original!
WP Post Author
MORE SLOTS FROM Play n Go